Posted by Nikki Bigger on Jun 8th 2020
Meet Ben and Nikki! They are both Commercial Photographers living a nomadic lifestyle in their self-converted 2017 Ford Transit 250 (H3L3). Vanlife is a perfect fit for them both because they love having everything within an arm's reach for an adventure, and the freedom that comes with living minimally. They love their Photography careers as it allows them to make an income on the road.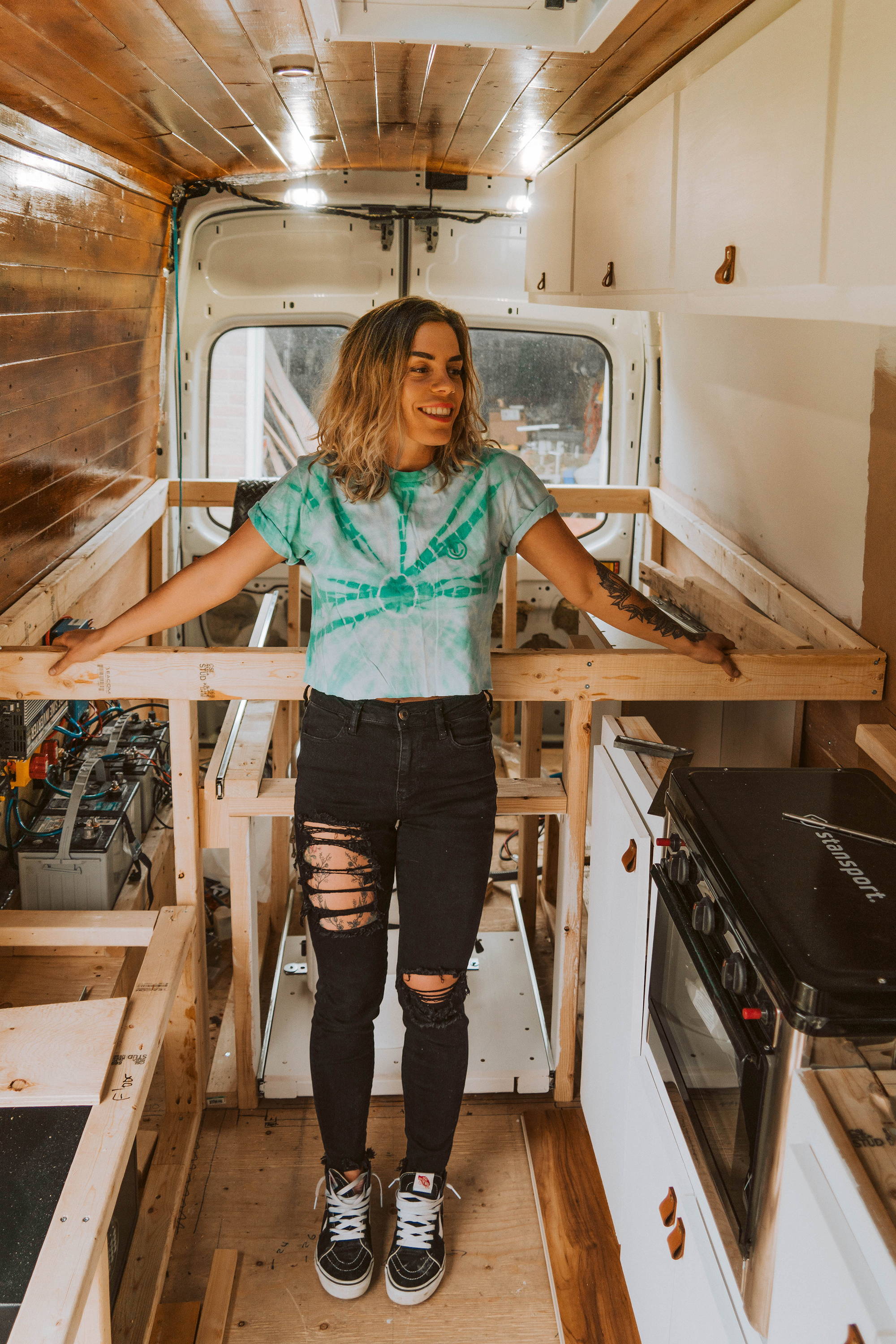 Nikki is a seasoned vanlifer. She lived in New Zealand for 2 years in a 30 year old van, roaming the islands and had the best time! She knew this had to be a long-term lifestyle because it felt so right. The freedom of waking up by the beach, driving anywhere on the Island she desired and having everything with her, was exactly the life she wanted to live. When she got back to Canada, after some time, she began planning out her build. She knew she wanted a similar layout to the last van, but the van had to be much newer so it wouldn't break down. She built the Ford Transit 2017 they live in today in only 30 days with her family! They worked endless hours to complete the van in time and it truly is a masterpiece. She's so proud to call this her home knowing her family helped her build it!
Ben, originally from Australia, moved to Canada on a working holiday visa to explore this side of the world. After working for a year, vanlife sparked his interest, so he bought someone's unfinished van project. He was working on the interior for 4 months, but soon after, he met Nikki and they clicked immediately. She had a complete and beautiful van so it was a no brainer that Ben would move in! Ben's unfinished van unfortuantely never had the chance to get completed, before he sold it. They have been roadtripping from Banff to Seattle, San Diego, Phoenix, Idaho and Vancouver Island. They love having eachothers company, daily adventures and road trips they have shared for the past 11 months and are excited for future adventures. They are also picking up their puppy very soon and are excited to go hiking with the newest addition to the family - the toy Australian Shepherd is going to have an amazing van life!
Nikki loves cooking healthy delicious meals in the van and chose the Stansport Outdoor Camp Oven & Range for this exact reason! Her old van only had a stove top, so cookies, pizzas and other baked goods were off the cards. This time, she wanted an oven so she could make whatever recipe her heart desired. Nikki regularly makes delicious baked goods, a few of her favorite things to make are healthy cookies, pizza and muffins. She has a passion for creating healthy alternatives to delicious unhealthy meals/baked goods. She loves the Outdoor Camp Oven & Range so much because it's small enough to fit nicely in the van, it's powerful and cooks food at high temperatures if needed, and it has a sleek and beautiful design.
"There's no better feeling than baking cookies in the van while watching the ocean sunset."
she says. Thankfully, the Stansport Oven provides a great space to cook and bake delicious meals to save money on the road but also eat very healthy!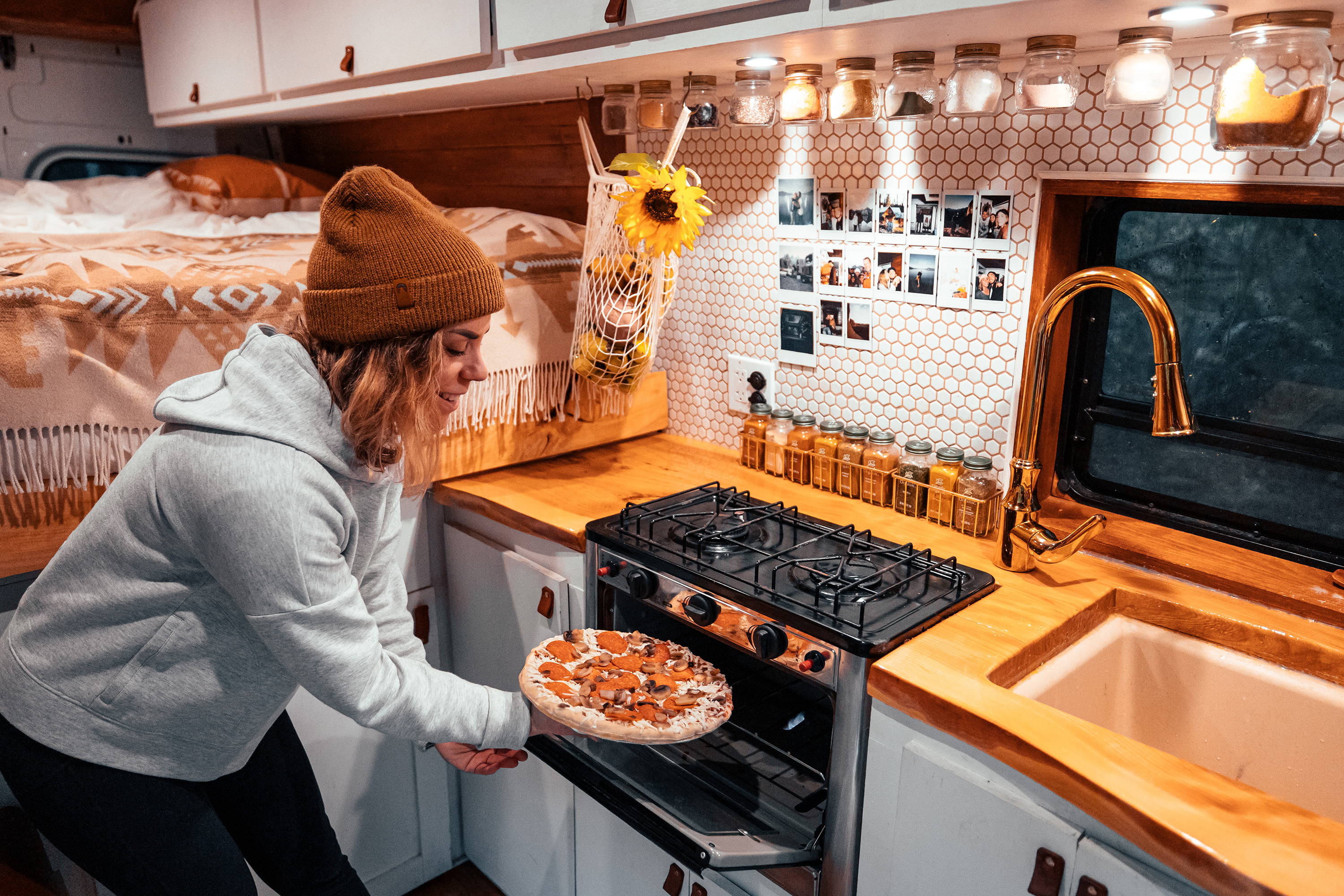 Living in a van is a lifestyle that Nikki and Ben love so much. Not only does it allow them to travel whenever they please, they feel connected to nature because they are basically always outside. When it rains for weeks, it directly impacts their lives because they are limited to staying inside the van; which is why they do their best to chase sunshine! They wouldn't change a thing because this way of living gives them passion, happiness and fulfills their need for adventure. Ben is passionate about photography, is a music lover and a coffee enthusiast. Nikki loves yoga and working out, cooking and listening to audiobooks.
Since they live so close to nature, being eco-friendly and conscious of waste is very important to them. They love how much they have reduced their consumption and waste compared to the way they previously lived. Their actions are part of the solution and the Stansport Outdoor Camp Oven & Range is a great way to cook/bake while buying whole foods, instead of eating out and consuming plastics and garbage. You can find them both on a hike, baking some muffins on a mountain top or relaxing in a hammock by the ocean.